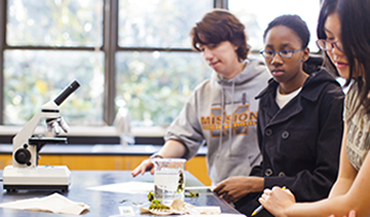 It's never too early to start planning for college, and for the University of California.
Not sure how to begin? Use the guide below and the links provided to get on and stay on your college preparation pathway.
You can also download the UC Preparation Calendar, which includes a college readiness planning calendar for families and students grades 9–12.

Explore Careers
What are your interests and passions? Start exploring careers at CaliforniaColleges. Here you'll find career assessments and tools to help you match your interests to career pathways. You can also create a myInfo Portfolio to keep track of your career matches.

Identify Your Cheering Section
There are many people who can support your college and career goals, including teachers, coaches, school counselors, church leaders and others. Let them know that you plan to go to college, and ask them to join your cheering section.
If EAOP is available at your school, consider participating. You can also ask your teachers or counselor to identify other academic preparation programs for you.

Explore Colleges
Colleges are not the same, so exploring colleges, the degrees offered, the geography, costs and other factors can help you identify the right college "fit" when it's time to apply. You can explore colleges at CaliforniaColleges, where you'll find tools to help you compare colleges and identify potential college matches using your important criteria. You'll also find contact information for individual colleges and universities so that you can follow up your search with a campus visit.

Stay Involved
Join clubs, participate in sports, lead a youth group, or volunteer — get involved! Explore your interests and help strengthen your college application through deep and sustained involvement in a few activities that really matter to you. Keep track of your extracurricular activities at CaliforniaColleges.

Plan Financially
Don't assume that the cost of going to college is beyond your family's reach. However, figuring out how you'll pay for college requires research and footwork.
Use the UC Preparation Calendar to prepare for the steps and deadlines for securing financial aid.
Consider establishing a ScholarShare College Savings Plan, which can help make college more affordable.

Complete Your A-G Classes and Get the Grades You Need
High school coursework — and the grades you earn — are extremely important for college acceptance. Your high school has a specific set of courses, called A-G classes, that are required for admission to the University of California and the California State University. Taking the most rigorous courses you can, including honors, Advanced Placement and International Baccalaureate, will help you build the strong problem solving, critical thinking, reading and writing skills required for college. Take advantage of all of the resources available at your school, including study groups and tutorials, to help keep your grades high.
Find your high school's A-G approved courses to make sure you're enrolled in the right classes.

Complete Your College Entrance Exams
Most colleges and universities require that students take the ACT or SAT exams. Start preparing early by taking the PSAT (offered in October to high school freshmen, sophomores and juniors). Also, read every day and do the extra math problems that your teacher didn't assign!
To learn more about the PSAT and SAT, visit the College Board website.

Apply to College
Use the links below to start your college application.
California Public Colleges and Universities
University of California application
California State University application
California Community Colleges application 
Private and Out-of-State Colleges and Universities

Apply for Financial Aid
Complete your Free Application online for Federal Student Aid (FAFSA). (This is the only official FAFSA website. And remember: the key word is FREE! You should never pay to complete or submit a FAFSA.) Pay close attention to deadlines.
Identify scholarships and apply for as many as you can. Create an account at Fastweb to learn about and apply on line for many scholarships.