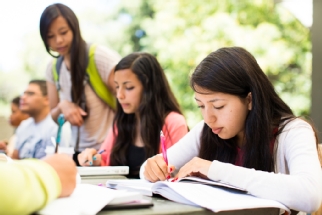 EAOP specializes in academic advising that helps students stay motivated and on track to complete the A-G course requirements required for UC and CSU eligibility.
Please note: specific EAOP services and programs vary by campus.

EAOP academic advising services include:
Individual Advising
EAOP advisers visit schools to provide individual academic advising and academic performance monitoring.
Individual Academic Planner
Every EAOP student completes and maintains an Individual Academic Planner that advisers use to monitor academic progress.
Group Workshops
EAOP conducts informational workshops on college preparation requirements, as well as specialized workshops to address study skills, time management and goal setting, help students maintain their focus on college, and achieve their best in school. The following is a sample of EAOP Group Workshops by grade level:
| Middle School | Freshman (9th) | Sophomore (10th) | Junior (11th) | Senior (12th) |
| --- | --- | --- | --- | --- |
| Overview of EAOP | A-G Requirements | PSAT Workshops | Personal Insight Questions | UC Application |
| Individual Academic Plan | Individual Academic Plan | Individual Academic Plan Update | College Application Portfolio Development | Letters of Recommendation |
| Making a Successful Transition to High School | The UC System, CSU, CCC and Private Colleges | Identifying Colleges | SAT/ACT Preparation | Choosing a College and a Major |
| College Options | Note-Taking and Study Strategies | Note-Taking and Study Strategies | Financial Aid | Completing the FAFSA |
| Taking the Right Courses in Middle / High School | Careers | Goal Setting | Choosing a College | Personal Insight Questions |
| What Grades Mean: Honors Courses | Test-Taking Skills | SAT and ACT | Preparing the UC Application | What to Expect in College |